Recent posts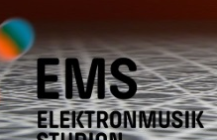 I will be starting a 2 week residency at the EMS studios in Stockholm, looking forward to developing some new projects!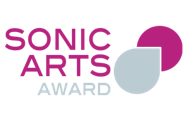 "when you're looking for something, all you can find is yourself" was awarded an Honorary Mention in the Soundscapes category of the 2014 PIARS Sonic Arts Awards in Rome, Italy. Congrats to the winners, press release here.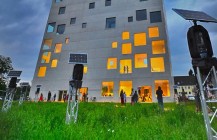 "Three Myths of Liberalism" will be one of the pieces by a 12 channel outdoor solar-powered sound installation by the C60 Collaboratorium. For information on shows, go to the USAP site. To listen to "Three Myths of Liberalism", click here.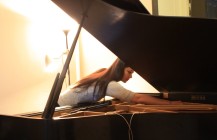 "this machine breathes to the rhythms of its own heartbeat" is a new piece for solo piano, electronics, and two surface transducers, commissioned by NYC-based pianist Vicky Chow with the assistance of the Canada Council for the Arts. The world premiere will take place at Spectrum on May 23, 2014, followed by the Canadian premiere at Cafe […]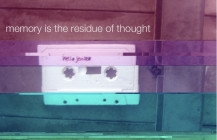 Happy to announce my first solo CD: "memory is the residue of thought", is out now on Kohlenstoff Records. The CD features my electroacoustic compositions ranging between 2009-2014. It can be purchased from me in person, or online via the Kohlenstoff store. The cover is based on an art work (cassette tape made of styrofoam) by […]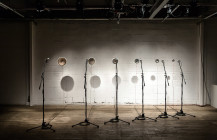 Happy to announce that the collaboration installation  Invisible Lines (Adam Basanta + Julian Stein) won the 2014 Edith-Russ-Haus Award for Emerging Media Artists! The work will be presented as part of a show at the Edith-Russ-Haus fur Mediakunst, Oldenburg, Germany in September 2014. "The jury has unanimously decided to present Edith-Russ-Haus Awards for Emerging Media Artists […]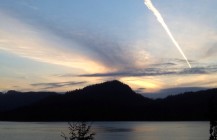 The composition was singled out very positively in the review by Alexander Varty: "…a high point… voices embedded within a near-symphonic surround-sound matrix of electronically treated environmental sound… [The piece...] eschewed narrative in favour of an impressionistic flow—a strategy that nicely depicts a region shrouded in raincoast mist, where time itself hangs suspended…. constantly shifting, immersive […]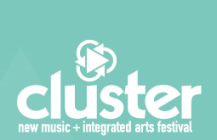 I will be travelling to Winnipeg, MB to participate in the 2014 edition of Cluster New Music + Integrated Art Festival,  March 1-9, 2014. As part of the festival, I will present the installations Invisible Lines (collaboration with Julian Stein) and Room Dynamics, as well as premiere a new work for 5 performers and controlled […]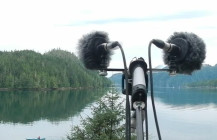 I will premiere my new multi-channel piece when you're looking for something, all you can find is yourself as part of Western Front's Music for the New Wilderness project, Feb 11-15 2014 at the Van East Cultural Centre. I will be in attendance for the premiere and following shows, hope to see you there. For more details, […]